Featured Races
We send out a monthly email with information and discounts on races in your area. Register now to get this good stuff in your inbox!
Looking for our race calendar? Click here to see a comprehensive list of races in your region.
Saturday, August 28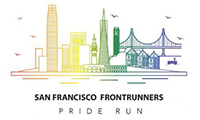 The San Francisco FrontRunners are excited to be able to host Pride Run in-person in 2021. The USATF-certified course is a 5K loop course in Golden Gate Park that the 10K runners get to enjoy twice.